Greetings!
I see all the posts and accounts here at Titanic-Titanic have become victims of some sort of black hole of data loss. That's rather unfortunate.
I used to be "Hudizzle" on this forum before that happened, and some of you probably remember when I built my first Titanic for Virtual Sailor. Well, I'm building it again!
This new model should work in Vehicle Simulator as well.
Firstly, if you're on Facebook, you can keep track of its progress at the Facebook group for the project here:
http://www.facebook.com/home.php?sk=gro ... 3554394888
I've been working on it for around two months now, and it's coming along nicely. I figured I finally should make a thread for it on this forum.
If you want to know why I'm building Titanic again, and what to expect with the model, here's what I wrote on the Hangsim thread:
*Higher accuracy.
When I built the old model, even during the later stages, I didn't do too well with "staying within the frames." The sheer was messed up on the super structure, and a plethora of other inaccuracies in the heights and locations of bulkheads and windows were present. Various deck objects were also not quite where they should have been. Plans are being used much more extensively here, along with a frame reference.
*Cleaner modeling.
On the old Titanic, even on the later versions, the modeling was really sort of shabby. Things were cutting into each other, polys were messed up here and there, many parts with curves had rough edges, and some bulkheads and other objects like the propeller blades were just too thick. The big difference you'll notice on the new model is a cleaner-modeled, smoother hull, with hard edges where needed, under the fantail and forecastle. The general shape is more accurate in those areas as well. When I had modeled the old Titanic, I had not yet figure out how to edit normals and vertexes to the extent that I could combine them, take them apart, delete edges and vertexes, manipulate them, etc. With this, I'm able to model things much more accurately when it comes to advanced shapes such as the propeller bossings. Those are now part of the hull itself, more or less cleanly integrated with the main hull mesh. Various other things I've learned will help to achieve a cleaner result. The cleaner modeling aspect also extends to the texturing/materials. The old model had a ton of unused or repeated materials throughout, and it became a confusing mess. I would think a cleaner list of materials will help somewhat, if not in performance or file size, then at least in modeling and later conversions to Britannic and Olympic.
*Lower poly count.
This goes along with the cleaner modeling aspect. Many, many objects on the old Titanic were too high-poly. The standard before was that an object which may need to be curved had to have at least 13 faces. Anything less and it would appear blocky and rough. Not anymore, as I now know how to smooth edges/normals. The hull itself should be slightly lower-poly than the old one, and I'm hoping the rest will be as well, meaning better performance for many I would hope.
*More accurate interiors.
The old interiors were simply terrible, especially the Grand Staircase. After I had finished the first Titanic, I had began working with MrRobville on his Mafia Titanic Mod, namely building interiors, including the GSC, Turkish Bath cooling room, and 1st Class Dining Saloon. In building the GSC especially, with new references and threshold for detail, I realized just how bad my old GSC was. As for whether there will be more or less interiors than before, I don't know yet. Possibly the same, possibly less, due to more needed detail.
Now, for some pictures...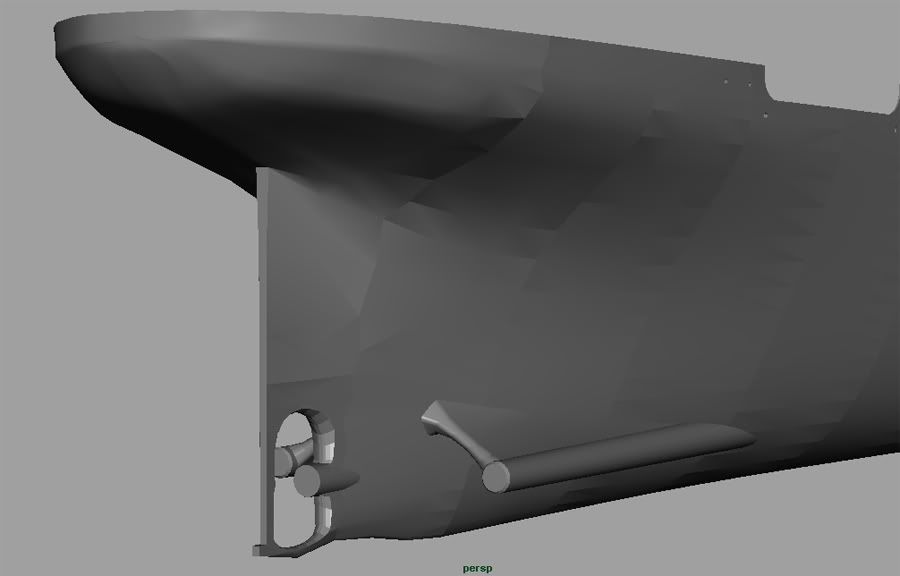 This was the stern on the old model.
And this is the stern on the new one. Note the much cleaner lines, smoother mesh and sharper edges, and the propeller bossings.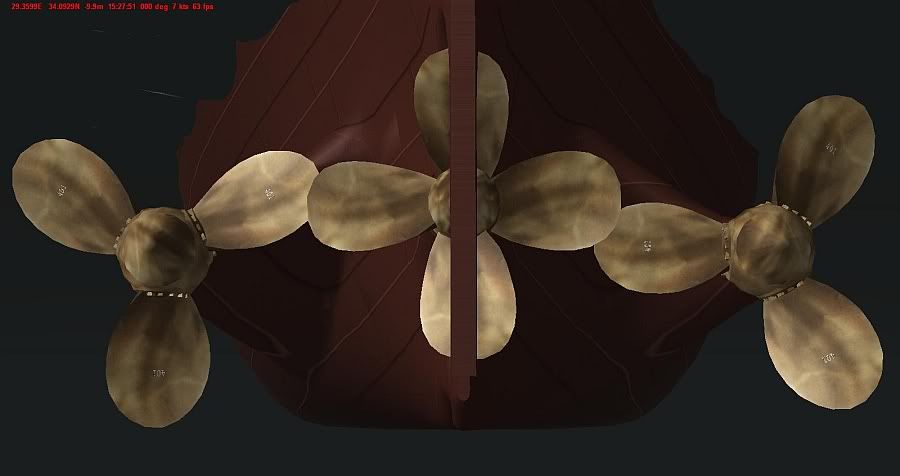 The new propellers. These are far more accurate and more detailed than the old ones.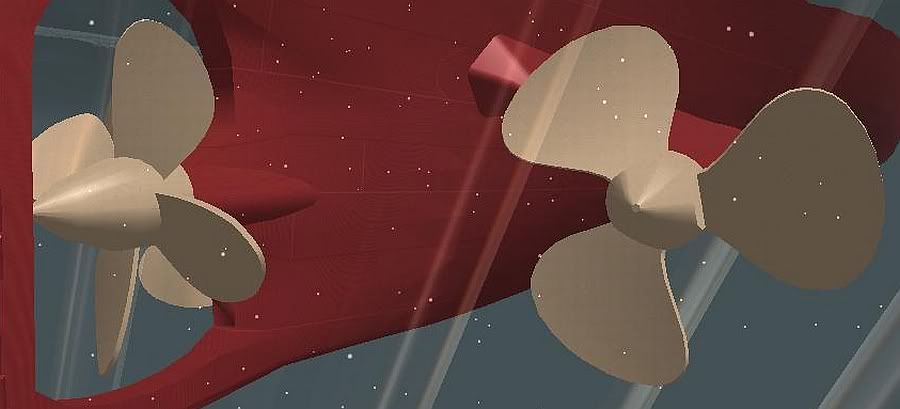 The old propellers...
And the new ones, of course.
The propellers as they appear in Vehicle Simulator.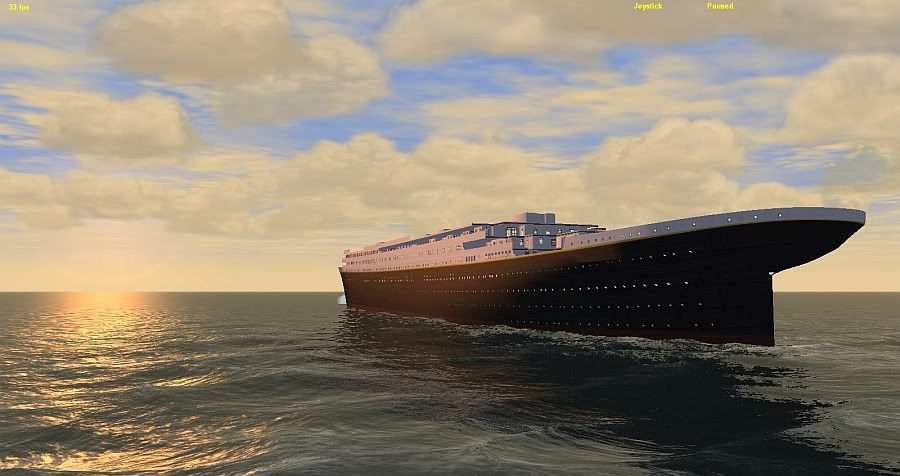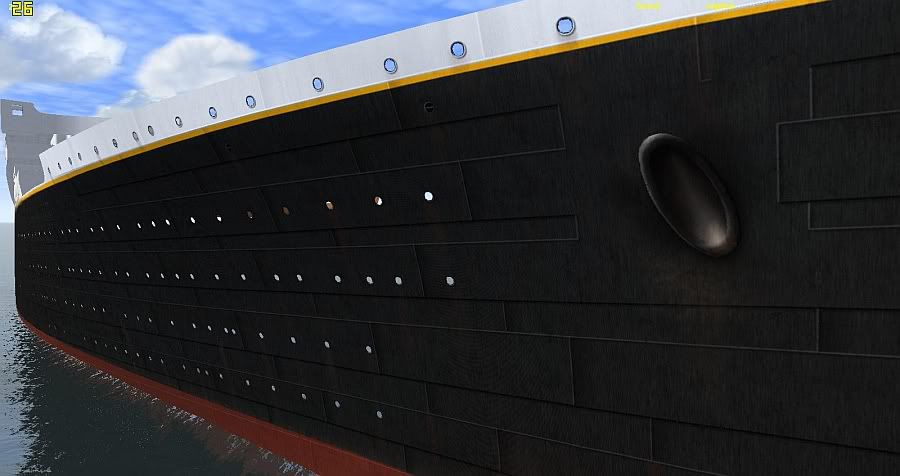 A couple shots in Vehicle Simulator.
Note on the last shot the more accurate hawse pipe opening for the anchor.
Finally, show renders of the model as of late: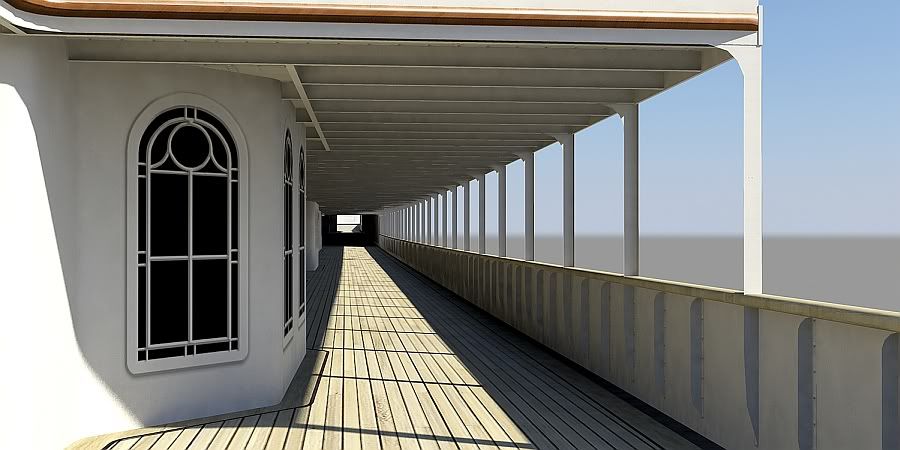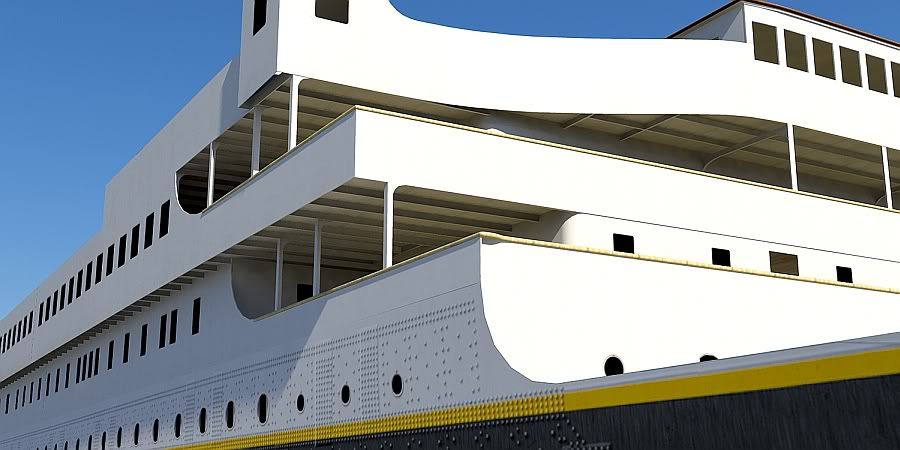 That's all for now! I will post further updates later, of course. In fact, I need to post an update on the Hangsim forum... In the meantime, join the Facebook group for the most up-to-date information and pictures for this project!
http://www.facebook.com/home.php?sk=gro ... 3554394888
Cheers!
Kyle